General Comments
The flyer we used at the beginning of the season is at: Do you want to race on Chantecler
Team members need to check the web page regularly for schedule changes and email (..\Contact_JB.htm) changes in their availability as soon as possible. I generally update the web page the same day. Team members are listed in the order the email are received.
q
Period
From mid-April to end of October. The official Greenbook schedule is posted at: http://cbyra.org/
q

Type of racing
Unless indicated the racing day include one single W/L (windward / leeward to a drop mark) race at the mouth of the Severn River a Saturday

We prefer and enjoy distance racing, where in general we do better, however we will still participate in many W/L races because we need the time on the water to make steady progress
q

Seven major events (marked with
è

)
They are the focus of the season. They consist of:

Ø

17 racing-days (two Friday afternoon starts: Solomons - Governor's; eight Saturdays: St Mike 1 - Solomons - Governor's- ARW - Oxford 2 - AYC Fall; four Sundays St Mike 1 - Screwpile - ARW - Oxford 2; one Monday holiday: ARW; and two weekdays: Screwpile)

Ø

Three W/L 3-day events (Screwpile -ARW - AYC Fall) and eight distance racing-days, which include two racing nights (Solomons - Governor's) or nights at dock outside of Annapolis
q

Twelve minor HP events (marked with
P

)
They are raced mostly as training and practice purpose. A limited number of these events may be cancelled and replaced by full scale practices. They consist of:

Ø

About 16 racing-days (11 Saturdays, four Sundays and one Friday)

Ø

About five W/L single day events, about five Govt. mark (point-to-point) single day events and about six distance racing-days
q

Practices (marked with Ø

)
We will do several weekend practices and/or weekday practices (late afternoon).

Availability for weekday late afternoon practices: Tia (case-by-case basis; no Wednesdays; after 5:30); Mike (most Fridays, a few Thursdays); Bill (only the occasional Friday); David (open on Fridays); Todd ?
q

Comments on team scheduling below
For each event the team scheduling below shows the baseline. If your name is there, your slot is firm. Team members have the flexibility to get out of specific minor events by calling or emailing me as early as possible. For major events, I expect a stronger commitment. We have some flexibility from 4 to 8 people and 4 is better in light air and 8 in heavy air, however, we have no control over that and the balance of risks is such that I prefer to be above the optimum than below. Whatever the final number, everybody will have a meaningful job to do.

Events appear in chronological order, except for the Friday night series.
Ø

S
eries of

12 races starts May 9 and ends August 22 - Dock 1730 -Time limit: 2030 - VHF 69
No race on May 30, July 4 & 18 and August 1

Notice of Race - Sailing Instructions

Team: Ben, Todd, Larry, Ellen,

Mike, Allen

Availability for weekday late afternoon practices: Mike (most Fridays, a few Thursdays); Bill (only the occasional Friday); Todd ?
4/2. A quick update on the 2003 racing season. I am currently behind my original preparation schedule due in part to my travel to Nice, Paris and Alpena, MI. Chantecler is still on the dry at Jabin's and should be launched soon. I am still adding items on my spring fitting list but most of it would have to be done with the boat in the water. I am also having a big discussion with PHRF about our new rating this year. They want to hit Chantecler with an additional 6 s/m (because the OD-sails rating is hit due to the larger class spinnaker) plus a still undefined hit (3 to 6 s/m) for the code zero, while I am saying that I should be concerned by the new class rating because I am not changing to a larger spinnaker and I want some credit for cruising folding prop that we have as opposed to the more efficient racing folding prop that the TPI boats have. I am however willing to accept getting rid of the code zero and limiting the spinnaker size to 89 m2 to avoid any rating hit and possibly (but I am not optimistic) move back into the A2 class. Answer will only be forthcoming at the next handicapper's meeting on 4/17.
The plan is still to do as many practices as possible before our first race, the NASS Spring race on Saturday 4/26. Some of theses practices will be with a coach from J/World and/or Will Keyworth. The new Kevlar 155% genoa is still in its original packaging in my basement and the main has been re-cut by North. This should give us better speed and better pointing compared to the old 140% genoa that was OK for the BOR last year but became a real disaster at the end of the season. Also, we have now learned how to tune the rig tighter for the genoa and that we needed to align properly the folding prop before the race. All of this should give us better boat speed.
You, the team members, are however by far the most important speed and performance factor. Within this context, the most major potential remaining obstacle to a good, solid season is crew stability.
þ
Boat launched Monday 4/14
Engine's scheduled maintenance completed. Boat launched 4/14 and is in slip #19 at our regular dock. Added team party on Sunday 4/27 at my place and address and directions. Added practice and race dates, links and dock time to all races. Added team members to individual races. Other cosmetic changes. Added BOR ShortTail regatta on 6/1.
I have now signed up for the J/105 clinic this Friday and Saturday. I know it is late, but I though we would not permitted into the clinic because of our keel, but Will said that did not matter. We will not use the genoa at the clinic but the class jib. From past experience with Jay Boat, this is an outstanding event where everybody will learn a lot. Please make every effort to come, at least for the on-the-water part on Saturday.
PHRF has released our 2003 rating and it is still 84. They initially wanted to bring it to 78 and I fought very hard to counter the argument. At this new rating the only limitation is on the Code Zero. We are still at the bottom of class A1, the slowest rated boat in the fleet, and thus we should be prepared to continue to be gazed by the fleet at the start. My current baseline plan is to start at the committee boat and tack for clear air if necessary.
Jeff Todd, our North Sails Service Manager and a great Melges 24 skipper (in particular 2002 High Point winner on Hot Toddy) has agreed to coach us, for some races and some practices.
þ

Ø

Clinic: North J/105 Speed Day

- Friday 4/18 (1830 to 2100) and Saturday 4/19 - Dock: 0800
Team: Catharine, Tia, Mark, David, Juan-David

The weather did not cooperate as the day on the water was shortened by lack of wind. Everybody showed a bit of rust at the beginning when bending sails but thereafter, it went reasonably well for the first sail of the season. We practiced a 80%-speed triangular approach start but had difficulties with the timing as wind strength and boat speed varied from start to start. Also, the reduced speed approach took away our maneuverability and we became sitting ducks for the faster boats around us. Later, we used a more flexible approach with more reaction to the rest of the fleet around us and we got a couple of good starts and a couple of terrible ones.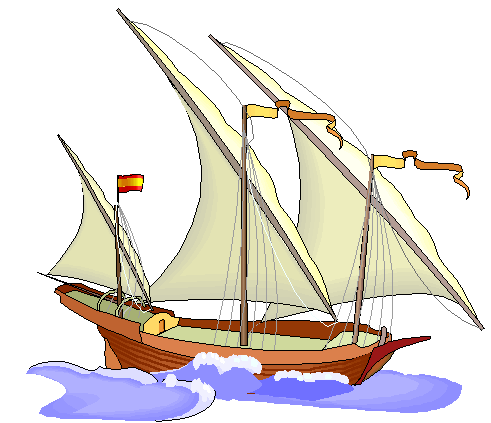 Canceled the 7/12 & 7/13 events (summer race to Baltimore and back) and the Summer race to Oxford (8/8 & 8/9). Added the coach schedule.
4/22. I would like to brief you on where we stand on practices.
I got only three positive answers for occasional weekday practices (Tia, Mike and Bill) and the only common weekday would be Friday. Coach Jeff is unavailable during the NOOD (Friday 5/2) and the following Friday is the start of the EYC's Beer Can series. We are doing this series for training purposes anyway. I would like to suggest that those who cannot come regularly on Fridays to let me know in advance (say the Monday before) when they could come and I will try to get Jeff onboard. Alternatively, we could also for those days with a larger attendance decide to practice specific skills instead of doing the beer can race. The problem with some beer can races is that the course may be so skewed that we end up reaching back and forth in the Severn River.
For our first weekend practice scheduled for Saturday 5/3 we have only two persons signed up so far and one has a big question mark. I am thus going to cancel the practice, unless a change of time (such as a late afternoon dock time) could bring more attendance.
I have said also that we should consider our minor non-HP as practice races in preparation for the major events in red in our schedule. After the NASS this week, the next such race is the St Brendan's Cup on 5/10, a point-to-point race for which I was thinking to book coach Jeff as a preparation for the major Miles River (St Michael) race on 5/24. However, only two of you have registered so far for the race and I may have to cancel it.
Finally, I know that Larry and Mike are hoping to do the Annapolis-Newport race this year and may drop out of some of our events for our medium term benefit as I am still planning to do the 2004 Annapolis-Bermuda race. Also, Tim and Santiago are not yet ready to commit to any of our event but may do so in the near future. I still hope that the balance of these potential changes is going to be positive.
4/24. The first race is coming fast. I am expecting Bill, David, Mark, Catharine, Tia and Tony. This will also be our first event with coach Jeff. Please be at the boat at least 10-15 minutes before the dock time of 8:00 am. The dock time is the time we should LEAVE the dock, and we have a few things to do before that. Forecast is for a cold day with a chance of rain. The wind direction is still changing widely from forecast to forecast with a strength of 5 to 15 knots. The big danger of no wind in the middle of the day is still there.
Also, remember that this Sunday there will be a team get together at my house at 5:30 pm. Bring along spouses, friends and children, if you wish.
4/24. I have updated the page with the events that our coach Jeff Todd will attend. We have now scheduled a Friday afternoon practice on the 5/9 (the day before the St Brendan's cup). Several of you have indicated that they may come for a practice on an occasional Friday afternoon. Let's try to leave the dock at 5 pm. I would appreciate feed back on who will come and if the time is OK. Alternative dock time would be 5:30 pm. This is the day of the first Beer can race but we will get more out of coach Jeff if we do a full 2.5 hour practice instead. Expect an intense exercise with series of spinnaker mark roundings between two very close marks.
Tia, Mike, Bill, David, Todd, are you coming? Anybody else?
I am delighted to report that coach Jeff will also do the Solomons' race and the Screwpile series.
Finally, there is a change in the schedule in August. We are trying to coordinate our vacation time with our children and grandchildren and I am now canceling the Summer race to Oxford (8/8 and 8/9). I may also have to cancel the Twilight race on 8/16. On the other hand, the race to Baltimore on 7/12 is no longer in jeopardy.
þ
P

NASS Spring Race - Saturday 4/26 - Result: 9th of 10
Dock: 0800 - Time limit: 1700 - VHF 77 - Length: 5 nm

NASS Spring Race . NASS_303 Results. First event with our coach Jeff Todd.

Coach Jeff Todd and Team: Bill, David & Juan-David, Mark, Catharine, Tia, Tony

We were cold and wet but the wind had the decency to stay between 8 and 12 knots (from the N-NE) while we raced and to die only after we finished. We spend some time setting the boat and the sails (Jeff shortened the top Main batten by half an inch) properly and the new genoa is a beauty, both in looks and in efficiency. Tacking is however more difficult with it and we have to relearn the proper speed of the tack and the proper way to set it fast on the other tack. That has become the number one item on our list of moves to practice.

We were the first boat in the sailing area and checked that the current was not behaving according to the timetables, still ebbing out strong when it should have been slack. This was most likely due to rainwater draining out of the Bay. We then did two rounds of mini loops with tacks, hoists, gibes and douses, using our two spinnakers. Thereafter, we waited with the rest of the fleet as the CB moved the starting area and reset the marks. They seemed to be tentative and set one of the shortest course I had seen with barely about one mile between windward and leeward marks. We decided to start at the pin because in a North wind with ebbing water the Western shore is usually better and we wanted to play the left side of the course. We had a beautiful start at the pin but unfortunately soon lost ground, as usual, to the faster boats. We were not pointing well, as I had not set the backstay properly before the start and lost steering concentration when pumping the backstay. Also, the main may have been too tight as I had difficulties keeping the boat in the groove. Our heading and heeling oscillated too much at times for the relatively flat seas we had. Next time Jeff may need to stay behind me from time to time where the vision on sail trim and steering is better. We need to practice coordination between steering and sail trim. Boat speed was good, but I have to double check the calibration of our speedometer as we were consistently above target, despite my steering with the inside telltales dancing, close to the dreaded 'pinching' mode. Also, because the CB changed the line between the first A0 start and our start, we did not check which end of the line was favored. It was a long line and by the speed at which all the boats gained on us at the start despite our good start, I suspect the CB end was slightly favored.

On the first leg, we tacked early to avoid potential bad air on the Port layline, where many boat would stack. We rounded the first mark at or close to the back of the fleet but managed to pass one boat at a leeward mark rounding. Our crew work at mark roundings was great and it is always a joy to take the inside position at the leeward mark and pass a boat that was cleanly ahead of us at the two-boat-length circle. This is a great tradition on Chantecler. To compensate we struggled a bit downwind. We need to practice downwind coordination and communication between the helmsman and the spinnaker trimmer and do these permanent S-turns better in search of the perfect combination of speed and height. At the finish, the best boat from the A2 fleet passed us coming from the Starboard layline while we were on the Port layline. The right side of the course may have had better pressure and I suspect the current started to weaken on that side. The end result was not great but we had a good feeling. We were in control and we understood our weaknesses and we have a good plan to fight them. Guess what, this plan includes the word practice! We will do better next time.

Results are at: NASS_303. Official length was 5 nm, but it felt shorter. We have finished 9th of 10 racing boats, 8.5 minutes behind the first in real time and 6.5 minutes behind the first in corrected time. The first seven boats were quite grouped and then there is a gap. One funny thing, all A0 boats are scored DNF because the committee boat was not at the finish line in time! They finished before the CB could move from the starting area to the finish area (upwind finish)!
þ

Team party at Françoise & Jaffar's home (Bethesda) - Sunday 4/27 - Time: 1730
þ

Ø

Practice - Saturday 5/3 - Dock: 1030
Team: Tony, Ivar, Alexander, Dave. We had an excellent workout in medium to light air, working mostly on tacks and line speed upwind, with a few hoists, gibes and douses.
I have taken two instruments off the boat for repairs and set the remaining ones so that we do not loose valuable information in the interim period.
I have bought a used 3DL Kevlar main. The sail has a bolt rope (instead of slides) at the luff and our rigger, Marc McAteer of Atlantic Spars and Rigging, is to modify the track for moving back and forth between the two mains. This main is still in excellent shape, having been used only sparingly by Steve Phillips (the current J/105 NA champion AND Farr 40 World Champion) on Le Renard . The sail is cut flatter than our current class main, which is exactly what we need with a genoa, and is 50% lighter (24 lbs vs. 48).
Deleted practice on 6/14.
5/6. We have just gone below the normal minimum for Saturday's St Brendan Cup race. Mark, Todd and Tony are signed up and we could still race but a fifth person would be nicer.
Who else could join us?
This race is a point to point race between navigation buoys (with the exception of the first windward mark, which is drop out mark to make a fair start upwind. This is good training for the kind of distance races we prefer.
As a reminder, I have Mike, David, Todd, Jane, Larry and Ellen signed up for the Friday training with coach Jeff Todd. We should be able to have a first look at our new kevlar main that day. Be prepared to be exhausted by 8 pm.
5/9. One person has just informed me that he is leaving for a long travel tonight. Another one had dropped out on Monday. I have now talked to Jeff Todd, our coach, and we have decided to cancel the training that was scheduled this afternoon. We are now back to the original plan of doing the first beer can race this afternoon.
The official NOAA forecast as of 4:30 this morning calls for chance of thunderstorms in the evening but contrarily to yesterday's, has NO warning for severe weather. So we should plan to be at the boat and leave the dock by 5:30 pm. If the weather deteriorates, we will not leave the dock. We will play it on the safe side.
We have reached a season with severe weather watches and this is something we have to live with from time to time. We went through some nasty thunderstorms during one Governor's cup and the Bermuda return without any close calls, fortunately. The boat is properly grounded, however, if the thunder hits are too close for comfort, I am known to have abandoned a couple of races in the past, dropped the sails and asked everybody but the driver to move inside the cabin.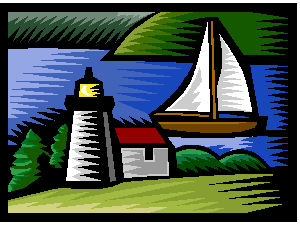 The work on the kevlar main (new numbers, new battens) is already done.
þ

Ø

The

practice with coach Jeff Todd is now canceled and replaced with the beer can race
þ

Ø

The first race of EYC's Beer Can

- Friday 5/9 - Result: 1st of 4 boats: may09.html
Dock: 1730. Team: Mike, Todd, Larry, Ellen

Due to last minute changes of crew availability, the practice with coach Jeff Todd was canceled. Instead we did the first Beer Can race. The forecast called for chance of thunderstorms in the evening but fortunately the weather was fine during the race with a pleasant and steady NW breeze.

We did a mini-loop for practice (tacks, a hoist, gibes and a douse) and then waited around the CB until course D (five legs) was set up. We checked the line and thought that the pin was favored by 10 degrees to the windward mark. We also felt that the pin was favored to the wind but did not make any measurement of the true wind direction. We were reaching toward the pin for a spinnaker start when Mike said that he had no time to change the spinnaker hoist from port to starboard. No problem, we decided to jibe and reach back to the CB for a port-side hoist which had the added advantage to give us the Starboard priority over the many boats around us (this year, all Class and PHRF boats under 126 share the same start). When I write this, I am discovering that I had made a mental processing error and that the line reading I had was making the CB, NOT the pin, favored by 10 degrees. We hoisted a bit late but got good speed right away. We then jibed in accordance with the plan but soon discovered that the jibe was too early and had to sail quite deep to make the mark. We should have checked the true wind before the start but did not.

Anyway. we rounded the mark first inside a pack of boats and during the difficult douse lost a bit of ground to Perro Loco, a Tripp 26 that was flying that day and racing right on the rumbline. For three legs, we could not pass that boat and her bad air made the J35 Rebel Yell catch us from behind.

At the last mark, we jibed, hoisted and soon thereafter jibed again to stay windward of Perry Loco. Rebel Yell passed us on the outside at the mark but then had trouble hoisting and dropped back. We crossed the finish line first, about one boat-length ahead of Perro Loco. This first win of the season is in real time and is confirmed in PHRF corrected time because Perro Loco is in a different class. It definitely felt good, very good. Let's have more of these during the season.
þ

P

SSC St Brendan Cup Race - Saturday 5/10 - Result: 8th of 9
Dock: 0900 - Time limit: 1610 - VHF 68 - Length: 9.6 nm

St. Brendan Cup Race - St. Brendan Results

Team: Mark, Todd, Tony, Dave, Laura

The weather was lousy with fog and thunderstorm threats most of the day. When we left the dock, the wind gusts were at 18-20 knots, so we changed the headsail from the #1 that was left on the forestay from Friday's race to the class #3 we had onboard and I was kicking myself for forgetting to pick up the kevlar #3 from my basement earlier that day. This was contrary to the forecast that was predicting light air except in possible thunderstorms the afternoon. But soon thereafter, the wind died and the CB kept us waiting. Around 12:30 pm, a steady 5+ kn Southern breeze came and the starting sequence started with a course set at four 2.5 nm legs with the windward mark at 200 deg instead of the expected Govt.-marks course. The line was long but fair and we started at the CB with no pre-set preference in terms of course side. Our start was average with less speed than ideal and soon we were slowly falling into the bad air of a couple of boats slightly ahead that were trying to outpoint each other on our leeward side. We tacked for clear air and a while later tacked back, thus staying in the central part of the course. Visibility was still rather limited and we lost track of where the big A0 boats went.

We had some good and some average boat handling, from tacks to jibes and to mark roundings (including a Mexican douse that we did not practice before). We never had any big problem, nevertheless. We had clear air most of the time and played the shifts to slowly catch up the J/120 Hot Pepper that was just ahead of us and passed her at the final leeward mark but we were passed before the finish by Whiskers, the winner of the A2 division, a boat rated 90 that started five minutes behind us. We used the 89 m2 spinnaker, anticipating a point-to-point race as this sail is a better reacher and we should have shifted to the 110 m2 before the start but we did not.

We had a good race with no major mistake but being at the bottom of A1 is tough. The kevlar main should give us a boost of boat speed for the next race. Also, we will certainly learn to take better advantage of these new sails and in parallel become more automated in boat speed.

The analysis of the results shows that we still have not corrected the major boat speed problem that we have had. Same pattern of sailing way below our PHRF rating. The 7th place A1 boat was 8 minutes of corrected time behind the division winner and then there is a big 8 minute gap between this boat and us. Also, 3/4 of A2 boats (rated from 87 to 105) sailed faster than us around the course and would have beaten us in real time had we started together and even the winner of Division B, a boat rated 126, would have finished within 33 seconds of us had we started together. Furthermore, three J/105s (out of 10 boats) would also have beaten us in real time despite their shoal draft (worth 6 s/m), their 100% jib and their smaller 77 m2 spinnaker. That is not all, one of the three is Java who sailed double-handled! This race is significant because we sailed almost the full race in clear air with a good team and there was no major wind or current imbalance between the two course sides.
5/13. On the 5/10 race I felt quite good working with good racers like Laura, Mark and Todd and this is why I am utterly disappointed with the race results when looking at our performance relative to other boats.
However, some good may result because I am slowly sorting out the facts and getting to a likely culprit. We are doing much better in distance races than W/L races. We are constantly, even with the new kevlar 155% genoa, falling into boats on our leeward and having difficulties pointing. Our tacking angle is too wide. The helm feels mushy unless the main boom is set well windward, which is the norm for class sails but should not be used with the genoa. I know for having measured it before the Bermuda race that our forestay is on the long side. From my J/105 class days, I have the tendency to keep my backstay quite loose to keep a good headstay sag to power up the 100% jib in light air. A respected J/105 owner with a long experience with PHRF sails told me yesterday that the boat will not point well at all unless there is a good tension on the headstay and no sag at all there.
Is sailing fun or what? Almost two years with the boat and still struggling with basic set up!
5/14? After talking with Jeff, I have decided not to touch the mast step this time as it is not good to change too many parameters at the same time. The mast is almost ready for the kevlar main and will be finished by Friday. The kevlar main has a different cut and a different luff curve, so it is better to look at it first. I have lengthened the forestay at the roller-furling drum by about 1/2", tightened the uppers by 4 turns, the middle by one turn and loosened the lowers by 2 turns. When the backstay is tensioned to 2 kpsi (about 85% of the course) the mast has a nice curve in the top and middle part and is flatter at the bottom (in real situation, the vang and the mainsheet should add to the curve at the bottom of the mast) while the tension in all six shrouds is nicely even around 30-33 (in Loos gauge uncorrected numbers). When the backstay is released, the tension on the shrouds goes to 62, 38 and 0 from uppers to lowers and the mast shows a little pre-bend in the middle and top parts.
The key to make these new ideas work is to use much more backstay that I used to when pointing is needed. I expect much less headstay sag and better weather helm in light air in particular.
þ

Ø

EYC's Beer Can

- Friday 5/9 - Result: No race due to bad weather
Dock: 1730. Team: Tim D, Ben
The race was canceled due to the weather but Tim D and Ben got their first look at the boat (under reefed main only). Welcome to the team Tim and Ben. Those of you who have signed up for at least some of the BC races are: Larry, Ellen, Mike, Catharine, Jane, Todd, Tia, Ben, Tim D and Pat. For any given week, please let me know by Friday noon if you are coming or not.
þ
P

SCC Annual Regatta Spring Race - Saturday 5/17 - Result: 8th of 8 boats
| | | | | | | |
| --- | --- | --- | --- | --- | --- | --- |
| YYYY | MM | DD | hh | mm | DIR | SPD |
| 2003 | 05 | 17 | 19 | 50 | 091 | 5.1 |
| 2003 | 05 | 17 | 19 | 40 | 090 | 5.1 |
| 2003 | 05 | 17 | 19 | 30 | 093 | 5.7 |
| 2003 | 05 | 17 | 19 | 20 | 099 | 5.7 |
| 2003 | 05 | 17 | 19 | 10 | 094 | 5.7 |
| 2003 | 05 | 17 | 19 | 00 | 094 | 5.7 |
| 2003 | 05 | 17 | 18 | 50 | 079 | 4.6 |
| 2003 | 05 | 17 | 18 | 40 | 086 | 4.6 |
| 2003 | 05 | 17 | 18 | 30 | 087 | 4.6 |
| 2003 | 05 | 17 | 18 | 20 | 083 | 5.1 |
| 2003 | 05 | 17 | 18 | 10 | 063 | 4.1 |
| 2003 | 05 | 17 | 18 | 00 | 076 | 4.1 |
| 2003 | 05 | 17 | 17 | 50 | 069 | 4.1 |
| 2003 | 05 | 17 | 17 | 40 | 057 | 3.6 |
| 2003 | 05 | 17 | 17 | 30 | 065 | 4.1 |
| 2003 | 05 | 17 | 17 | 20 | 084 | 5.1 |
| 2003 | 05 | 17 | 17 | 10 | 093 | 6.2 |
| 2003 | 05 | 17 | 17 | 00 | 085 | 4.6 |
| 2003 | 05 | 17 | 16 | 50 | 085 | 5.1 |
| 2003 | 05 | 17 | 16 | 40 | 082 | 5.1 |
| 2003 | 05 | 17 | 16 | 30 | 074 | 5.1 |
| 2003 | 05 | 17 | 16 | 20 | 073 | 4.6 |
| 2003 | 05 | 17 | 16 | 10 | 075 | 5.1 |
| 2003 | 05 | 17 | 16 | 00 | 077 | 5.1 |
Dock: 1000 - Time limit: 1700 - VHF 72 - length: 7.7 nm
SSC Annual Regatta Spring Race SIs -
SSC Annual Regatta Spring Race Results
Coach Jeff and team: Ivar, Mark, Tony, Alexander, Todd
| | | | | | | | | | | |
| --- | --- | --- | --- | --- | --- | --- | --- | --- | --- | --- |
| YYYY | MM | DD | hh | WD | WSPD | GST | BARO | ATMP | WTMP | PTDY |
| 2003 | 05 | 17 | 20 | 090 | 6.2 | 7.7 | 1027.7 | 11.2 | 14.1 | -0.5 |
| 2003 | 05 | 17 | 19 | 100 | 5.7 | 6.2 | 1027.7 | 11.1 | 14.0 | -0.6 |
| 2003 | 05 | 17 | 18 | 080 | 3.6 | 4.6 | 1027.9 | 10.7 | 14.0 | -0.4 |
| 2003 | 05 | 17 | 17 | 080 | 5.1 | 6.2 | 1028.2 | 10.5 | 14.0 | +0.3 |
| 2003 | 05 | 17 | 16 | 070 | 5.7 | 6.2 | 1028.3 | 10.0 | 14.0 | +0.5 |
Many new things but no magic wand and same results. The mast track is fine and switching between bolt rope and slides is time consuming but relatively easy. The kevlar main is still in very good shape, flatter than the sharkskin main and a pleasure to see and to sail. The rig setting is an improvement. Jeff spend the full race on the main and made crucial strategic calls. But, Black Watch (rated 87), the leader of A2 got her finish gun 23 seconds before we crossed the finish line. She gained 10 minutes and 23 s on us in real time and 10 minutes and 46 s in corrected time.
The day was cold and cloudy but dry. The meteorological and wind data from Thomas Point (TPLM2) are in the tables above and to the right, most recent data first. Times are GMT (we started at 1610 GMT) and temperatures Celsius. Water temperature was 3-4 degrees higher than air temperature and this explains the unstable wind and gusts we got (however we were not expecting this as I thought I heard the opposite on the VHF WX earlier at the dock). Ten-minute average wind direction varied from 57 to 99 and speed from 3.6 to 6.2 m/s (7 to 12 knots), but ten-second gusts were dominant and varied over a larger range.
The line was quite biased when we started, with the CB favored. We were at the CB at about one minute to our start and managed to keep a good position but accelerated a bit too late and again the leeward boats soon forced us to tack for clean air. We basically played the center part of the course, stayed in contact with our fleet for a while but at the mark the spin halyard shackle opened when hoisting and as we lost some time getting the spare halyard attached to the sail, the first J/105s had passed us on our leeward. I called for unfurling the genoa way too early and this killed our speed but we did a good leeward douse at the Starboard leeward gate and stayed on Port tack all the way to close to the layline, thinking that with the strong ebb generated by all the recent rainwater washing out of the Bay, it was safer to stay in shallower waters as long as possible and then to cross only after having banged the North-Western corner of the course. We tacked a bit too early but It paid big dividends as we closed up on the rest of the A1 boats and put some major distance between us and the J/105s.
Our tacks, hoists, gibes and douses were mixed, with some good ones and some not so good. There was some confusion as to crew assignments and we changed the tacking method in the middle of the race. We will now use this improved boat handling procedures but the lesson is that we should definitely spend more time practicing all that together before the race. Unfortunately this time we had to spend a big chunk of that precious pre-race time adjusting the kevlar main that was used for the very first time, tensioning the lowers by two more turns, changing headsails from the #3 we put on the furler at the dock to the #1 and finding the proper backstay tension and genoa car position for the gusts and waves we had.
We have finished 15 minutes (10 minutes 46 s corrected time) behind Le Cygne (rated 51), the winner of our class and 2 minutes 38s (1 minute 28 s corrected time) behind Air Mail (rated 75). Results for the J/105 class give no time, so unfortunately we cannot do any comparison. For A2, there was five starters and three of them would have beaten us in real time and four of them in corrected time. The only A2 boat we would have beaten in corrected time is BAM a J/92 rated 102 and the margin is only 3 seconds. She is also using a genoa and as for the J/105, the same design flaw of a wide shrouds base makes her pointing inefficient.
Racing is solving a big puzzle. We have definitely put more pieces together now but we are not there yet.

5/19. No official results yet for our last race but I have posted a preliminary write up. We have improved but the kevlar main is no magic wand and we have to continue to put together the numerous pieces of this large puzzle.
This Saturday 5/24 and Sunday 5/25 we will do our first major event of the season with Ivar, Catharine, Todd and Bill. Please be at the boat by 8:15 as we have very little slag between the dock time of 8:30 and the check-in at mark X at 9:25. Thereafter, we will be the 13th start of the day at 10:30 so we will use the time to do a couple of mini-cycles as Ivar will be for the first time by himself on the foredeck and we will be only five. Current forecast is for a cold front to stall over the region and give us S winds 15 to 20 knots with chance of showers.
We will spend the night at St Michaels in the boat, most likely in a long raft. I will refit the boat with her cushions and quarter-berth. Bring appropriate clothes and a sleeping bag but please try to limit the weight of your bag to the minimum. On shore, there will be showers, diner, drinks and a live band for the post-race party. Breakfast will also be served onshore Sunday morning before the return race. Unless the wind dies and the race is not canceled we should be back at the dock by 5 pm on Sunday.
5/21. Final write up on the 5/17 race with the official results SCC Spring.
5/22. So far only Mike, Larry and Chandler have confirmed for the Beer Can race tomorrow.
This race will be an important test for us because I have now lengthened the forestay by an additional 1/2", moved the mast butt one hole back and I will remove the roller-furler drum tomorrow before the race. The mast prebend is now more uniform from the deck up (previously, the mast was quite straight at its bottom half and then bending in its upper part).
Thus Friday, Saturday and Sunday, we will hoist and douse the headsail at mark roundings instead of rolling it. It is a bit more complicated but no big deal and team members have to go to a slightly different routine. The price to pay is slightly more difficult mark roundings, but on distance races they are few and far between. Deck swiping headsails should improve our pointing and our overall performance. I have checked the kevlar #3 today and the sail looks terrific compared to the class #3. If the current forecast of East winds 10-15 knots stands for Saturday, we will most likely use the kevlar #3 in the Eastern Bay and it should give us a pointing capability we have not yet seen this season (I believe last time the sail was used was during the Bermuda race and return).
So, unless we do some kind of silly mistakes, we should do better on Saturday, our first major event, than on any race so far this season. Get your rain gear thought because there is rain likely in the forecast for both Friday and Saturday. On Sunday, the forecast is less favorable for us, with SW winds 5-10 kn and chances of showers, but of course this could change.

þ

è

MRYC Annapolis to Miles River (St. Michaels) Race and RRBC Miles River Race Back - Results: 17th of 22 and 1st of 11
Team: Catharine, Todd, Bill, Mike, Jon

§ Saturday (dock: 0830). Length 20.9 nm. Results Annapolis to Miles River

This was déjà vu. We are West of the deep channel near Bloody point Light and the boats East of us are gaining and passing us. This time I had researched the tides and currents thoroughly before the race and everything seemed to fall in place. The tide was supposed to start flowing in shortly after our start and the ship that was at anchor near the starting area was turning. The adverse tide should be stronger in the deep channel, but nevertheless the boats there were gaining on us. I knew that there was lots of rain these past few weeks but the model I relied on at the web page of the NOAA chesapeake Bay coastal prediction center was supposed to measure and introduce every day all kinds of correcting factors. I thought that any uncorrected excess rainwater would simply change the strength of the incoming tide. I was wrong.

Most of the fleet went straight for the deep channel at the start and stayed there as long as possible. Such behavior tickled me but not to the point of changing my strategy. Will Keyworth gave me a perfectly clear explanation after we arrived at St Michaels: the fresh rain water does not mix with the salty Bay water and stays on top all the way to the Bridge Tunnel; the bottom Bay water ebbs and flows with the tide and the overall water level goes up and down but the river of fresh rain water flows continuously on top from North to South. This flow is stronger in the deep channel and does not affect much the ship at anchor because its draft make her turn with the bottom flow not the surface flow. CQFD [Ce Qu'il Fallait Dire: What Was Needed To Be Said]. Thanks Will, lesson learned this time.

I had planned a spinnaker start at the CB but my timing was completely wrong and we ended up looking for clear air in second row near the pin. We stayed high for boat speed, passing North of the ship at anchor and then jibed when we reached the depth of 60 on the Eastern side of the deep channel. With a couple of other jibes we moved to the 40 line on the Western side of the deep channel and stayed there before our final couple of jibes to the Q mark.

Thereafter, under spinnaker close reach we started passing genoa boats and felt good initially. We were however in a slow permanent header and we reacted only after our initial gains had almost disappeared to douse the spinnaker and continue on the genoa.

At the N mark we hoisted again but the wind was weakening. Midway during this last leg, we went looking for air close to the Western shore while most of the boats nearby preferred the Eastern part of the River. We gained but not enough to pass Georges II and Pegasus. We however measured the time difference and knew that we would compensate over them by seconds. The big disaster was avoided as we finished 17th of 22 boats, but Air Mail, who was with us when we jibed out of the deep channel finished in the Silver.

| | | | | | | | |
| --- | --- | --- | --- | --- | --- | --- | --- |
| YYYY | MM | DD | hh | mm | Mark | DIR | SPD |
| 2003 | 05 | 25 | 12 | 20 | E | 108 | 9.9 |
| 2003 | 05 | 25 | 12 | 10 | | 100 | 11.1 |
| 2003 | 05 | 25 | 12 | 00 | | 092 | 9.9 |
| 2003 | 05 | 25 | 11 | 50 | BPL | 089 | 8.0 |
| 2003 | 05 | 25 | 11 | 40 | | 086 | 5.1 |
| 2003 | 05 | 25 | 11 | 30 | L | 090 | 6.0 |
| 2003 | 05 | 25 | 11 | 20 | | 101 | 7.0 |
| 2003 | 05 | 25 | 11 | 10 | | 112 | 8.9 |
| 2003 | 05 | 25 | 11 | 00 | | 114 | 8.0 |
| 2003 | 05 | 25 | 10 | 50 | | 098 | 7.0 |
| 2003 | 05 | 25 | 10 | 40 | arrow | 087 | 7.0 |
| 2003 | 05 | 25 | 10 | 30 | | 108 | 7.0 |
| 2003 | 05 | 25 | 10 | 20 | | 114 | 8.0 |
| 2003 | 05 | 25 | 10 | 10 | N | 117 | 8.9 |
| 2003 | 05 | 25 | 10 | 00 | | 119 | 8.0 |
| 2003 | 05 | 25 | 09 | 50 | | 120 | 7.0 |
| 2003 | 05 | 25 | 09 | 40 | | 123 | 7.0 |
| 2003 | 05 | 25 | 09 | 30 | E | 132 | 7.0 |

§ Sunday: Times are EDT; we started at 0935 EDT; temperatures are Celsius and wind speed in knots. Length: 12.6 nm
| | | | | | | | | | | |
| --- | --- | --- | --- | --- | --- | --- | --- | --- | --- | --- |
| YYYY | MM | DD | hh | WD | WSPD | GST | BARO | ATMP | WTMP | PTDY |
| 2003 | 05 | 25 | 13 | 110 | 8.9 | 9.9 | 1016.6 | 15.2 | 15.1 | +0.0 |
| 2003 | 05 | 25 | 12 | 090 | 11.1 | 11.1 | 1016.5 | 14.9 | 15.0 | -0.5 |
| 2003 | 05 | 25 | 11 | 120 | 8.0 | 8.9 | 1017.1 | 14.9 | 15.1 | +0.5 |
| 2003 | 05 | 25 | 10 | 120 | 8.9 | 9.9 | 1016.8 | 14.9 | 15.2 | +0.6 |
| 2003 | 05 | 25 | 09 | 140 | 7.0 | 8.0 | 1017.0 | 14.8 | 15.1 | +1.3 |
Once again, I was so afraid of getting too early to the start line that we were too late and in the second row. Fortunately, we had properly set up at the windward pin and this weakness turned out to be a strength as this was a Starboard broad reach downwind start and we reached the line late but with plenty of speed and could easily gaze and pass Strike that was ahead of us but still struggling to hoist with little speed. All of a sudden we were to windward and ahead of everybody else. I guess, years of Friday Night Beer Can races are starting to pay off because this start is a familiar one in the series. Before we reached the first mark, Mulligan (Mumm 30) on our leeward and Euro Trash Girl (J/120) on our windward would power ahead of us and soon Bad Medicine (Quest 33) would follow. We stayed above the rhumb line to protect our wind and a permanent wind shift of 15 degrees to the left helped us to keep our speed up.
We jibed at the mark and managed to stay ahead of the rest of the pack with good sail trim and good positioning. Then Bill went full time on the navigation screen on the computer below, we rotated sail trimmers and John became available as an additional pair of eyes on sail trim and the wind and boats nearby. We gained efficiency.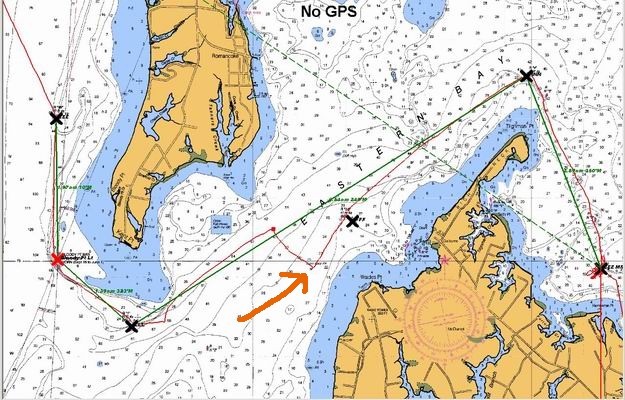 Then came the critical call. At 2.7 nm from mark L (SE of Bloody Point Light), two boats had overpowered us and a pack of boats were closing windward on our Port hip. The wind had lifted by about 20 degrees and we were forced to turn with the wind away from the mark on Starboard to keep the boat speed above 5 kn. However, the wind seemed quite weak ahead of us on Port while building on Starboard but way behind us. So, we jibed for the new wind [See orange arrow on the chart above]. We messed up the jibe and when we cleared the hourglass, many boats had passed us. They however soon came to a slower pace while the wind oscillation reversed itself and gave us a lift on our new jibe. Then we jibed back and all of a sudden, we were following a perfect course to the mark and we had speed. We could now see Altair, the lone A0 boat, in the distance near Bloody Point and Mulligan who was taking a very wide turn around these two successive marks. Euro Trash Girl was only ten boat lengths in front of us at the southern mark because we had been able to carry the spinnaker much longer due to the better angle we had to the mark. And the blue spinnaker of Bad Medicine was behind us now.
We turned around Mark E and Bloody Point Light conservatively to avoid the shoals but three J/105s and a PHRF B boat who were following our lead took more risks and gained good distance on us by cutting the corners (Rum Puppy hit the rocks and was momentarily stopped). Also, the new wind in which we had jibed was still building from our Starboard hip and they were getting it before us. The course was now shortened at the next mark. For most of the close reaching leg we stayed even in speed with the boats ahead of us but the boats behind us were closing on us because of the building breeze in which some asymmetricals were hoisted. The three double-handled J/105s (Dove, Java and Rum Puppy) beat us to the finish line at its windward CB end but we managed at the pin end to stay half a boat length ahead of the next A1 boat, Soul. Being only 4 mn 39 s behind Mulligan, we compensate over her (and over Euro Trash) to take first place of 11 class boats. The amazing B boat (Wreckless Abandon, a 26 footer rated 138) finished only 30 s behind us despite starting 20 minutes after us!
That was an exciting race and an exciting finish.
The good performance of the double-handled J/105s with the 77 m2 spinnaker shows that in these conditions the J/105 needs to be light and that the 77 m2 is a good light air reacher.

5/27. Date of BOR ShortTail regatta corrected from 6/1 to Sunday 6/8.
5/28. Final write up for last weekend races.
I hate to do this, but I am reviewing the crew schedule in light of the important lessons learned during the weekend. Will Keyworth, my sail maker and principal adviser, thinks we are not doing well in W/L races because the boat's keel may be above specs (I am going to have it weighted soon) and on Sunday the double-handled J/105s gained 10 minutes on us despite the fact that this was our best race of the year so far (they had done it in previous races but then the weight was not as obviously a factor). Crew weight has all of a sudden become important for performance. So, I am reviewing the crew schedule and aiming now at five to six people instead of the seven to eight I have been using so far.
The consequence is that I have now less flexibility to integrate less experienced newcomers to the team and train them before important events. I am also introducing the concept of keeping one or two persons in reserve for a given race. I plan to review the forecast on Wednesdays before the weekend races and if there is a chance to get heavy air during the race, I would then activate one or two persons from the reserve list. If not, then we will not expand the crew beyond the original six. Any name with a question mark is also moved to the reserve.

P

SSC Twilight Race (Govt. marks) - Saturday 5/31 - Result: 8th of 9
Dock: 1530 - length: 7.95 nm

SSC Twilight Race - Results SSC Twilight Race

Team: Ivar, Catharine, Tony, Dave, Guy

We have no inertia in team quality and fall very quickly from feast to famine. Too many crew changes. Catharine was the only leftover from last week and she did plenty this time again. We wanted more wind for the boat to be competitive and we got it, we had between 14 and 20 knots for the race. We wanted the kevlar #3 tacked to the deck for better pointing and got it but the short waves and the wind made a challenge of achieving proper pointing. We wanted a lighter crew and got it. We wanted a point-to-point race and got it. But what we also got was so much struggle with basic stuff that I decided before the race not to risk hoisting the spinnaker, knowing that a storm was brewing.

We started at the pin and did a decent first leg despite being outside a 25 degrees right-hand permanent shift that favored the CB starters. Thereafter, we lost lots of ground in the downwind leg until we decided to go deep and wing-and-wing with the #3 sailing by the leech and tacked to the outside track. The battened jib performed extremely well under these conditions. Thanks Guy for this idea, together with good sail trim and good tactics. Had we done that maneuver earlier and faster we could have been more competitive. I watched the storm approaching and there was a chance that it could miss us. We crossed the finish line last, but compensated over the J/35 Tiamat; a pleasant surprise, no DFL this time.

We then dumped the sails and got drenched by a heavy downpour with up of 34 knots of wind and assorted lightning strikes. It was the tail end of the larger storm that had already passed Annapolis but a good squall nonetheless. Some people onboard actually enjoyed the weather but I did not. I was cold under my foulies and it had been a miserable day.
6/1. Backtracking on crew number. Re-looked at the split between core and reserve team. Current core team members are: Mike, Todd, Catharine, James, Mark, Larry, and Bill.
I will now try to seek a better balance in experience and skills level each time we race. I have redefined the core team and the reserves. For those of you in the reserves, I am willing to go out and practice with you as often as you can make it. Just let me know when you are available.
I will be doing such a practice next Friday 6/6 with Ben at 3:30 pm. Weather permitting, we will be hoisting the main, the jib or the genoa, tacking and changing headsails. If another person can join us, we will be rotating positions. Starting with a fourth person, we could consider hoisting if the wind is OK.
Who can join us?
Following that practice we will have the regular beer can race. Let me know by email or phone by Friday morning who is coming. We will return at 5:40 pm exactly to pick up the rest of the crew, not at our regular dock but at the dock in front of McNasby, at the SE end of Second Street (there a couple of tables there and it is a short walking distance from our dock).
A good way for the reserve team to accelerate the learning process is to read a lot on sail boat handling and sail trim. I have a couple of manuals and CDs from Bill Gladstone, they are the best ones around, and I encourage you to borrow and study them. Bill has done it and Todd is next on the list for one set and my second set is still available. Let me know who is interested.
On Saturday at 1000, the team is Ivar, Tia, Tim D, Todd and James with Dave in reserve if the wind permits (I have lowered my threshold now).
On Sunday at 0830 the team is Tia, James, Ben and Todd with the last slot still available for whoever can claim it.
6/1. Ivar: 'For those who have got very little experience (like me) and don't have time to attend the weekly practices, may I suggest that prior to the race we spend if possible half an hour to practice what we are suppose to do during the race and to rotate position time permitting. Thanks and see you next Saturday'
Good point, Ivar, thank you. I have set up the dock time for all races to be at least one hour before the Rendezvous or 1 1/2 hour before our start, whichever comes first. Dock time means the time when we leave the dock. Yesterday, we left the dock much later and we did not have time to practice properly.
It took us quite a long time to change the main from the kevlar one to the sharkskin one, to prepare the reef, to prepare the kevlar #3, to fix the prefeeder, to install the computer, to unload the extra sail, etc, despite the fact that I had arrived 45 minutes before dock time and most of the team arrived soon thereafter. It took us too long to do these tasks because there was a bottleneck as Catharine and I were the only ones familiar with the boat.
We need all to:

arrive at the boat at least 20-30 minutes before dock time;
learn by heart the position of the clutches or cleats for the main halyard, the jib halyard, the backup jib halyard, the spinnaker halyard, the backup spinnaker halyard, the spinnaker tackline, the outhaul line, the vang, the cunningham, the flattener reefing line, the first reef reefing line.
learn to adjust sail battens; to reef the main before hoisting, to change from one main to the other one (this is unusually difficult and long because one main has slides and the other one has a bolt rope); to set jib sheets and spinnaker sheets properly; etc
learn to use two sailing knots: the bowline and the clove hitch (see Knots) to tie a sheet to a sail or a flag to the backstay.
6/2. A pleasant surprise, we were not DFL last Saturday and would have compensated over a couple of A0 boats, including Donnybrook! The wing-and-wing idea was fast even in 8 kn winds.
The MOB procedure we follow is at: Quickstop. We will practice it Friday, Saturday and Sunday before the races. During the Sunday race the MOB drill is mandatory.
I want everybody to be familiar with the procedure. The first person to shout Man Overboard becomes automatically the spotter and should continuously point to the MOB. Last Saturday, we did not do that right away and lost contact with the sail tie that went in the drink. The next most urgent action is to throw the red cushions overboard and then prepare to take the headsail down while the closest person to the wheel tacks the boat right away. Then we take the headsail down, jibe and turn into the wind at the MOB with the main luffing.
The drill is more difficult to do with the spinnaker up. We will do it after we master this one.

þ

Ø

Practice & Beer Can race- Friday 6/6 - Result: 4th of 6: june06.html
Dock: 1530. Team: Tony, Larry, Ellen, Chandler

A late start, a detour through DC, a horrendous rush hour, a slow boat preparation made us start practice quite late. So late in fact that we did not do much before returning to McNasby and we arrived there after Mike and Todd had already left (Tim gave up earlier in the bad traffic). Of course, the race that followed was even worse, starting with a bad start and followed by all kinds of silly mistakes that developed and snowballed, starting with myself not giving detailed instructions with each boat handling move. I lost my cool and instead of helping the struggling team member, yelled. Wrong move. The problem is that our win in the first beer can race set my expectation too high and instead of taking what was there and work from there, I was planning to win again. Please read Tucker Thomson's column in the June issue of Spinsheet. Beer can racing is supposed to be fun.

One lesson that is only now starting to slowly sink is that the ratio of beginners to seasoned team members has to be actively managed for all races with one tutor assigned to each beginner.
þ
P
EYC/AYC Leukemia Cup - Saturday 6/7 - Result: DSQ (but basically 4th of 6)
Dock: 0945 Leukemia Cup SIs - Results Leukemia Cup

Team: Tim D, Todd, James, Tia

This was a memorable race. It was raining so hard in the morning that I had no will to race and when Ivar, Antoine and Marie emailed or called to enquire about the race, I told them we would not race. I went to the boat simply to tell the rest of the team but on my way checked with RC officials at EYC. They said that they will organize the racing despite the deluge of rain because the wind was good. So, the four remaining team members and I discussed it and we decided to go for it.

We had the kevlar main, the kevlar #3 and the 110 m2 spin. We had on average 17 knots of wind but gusts were relatively moderate at 20 kn and lulls at 15. I could not put enough backstay to reduce the headstay sag, which was at 6-8 inches, because the over bend wrinkle appeared at about 30%. We had the wind we wanted but still had the same pointing problem with the #3 that we had with the #1. Also, the clew of the main jumped out of its track and we had to use a sail tie to connect it properly to the boom. It took us time to figure out all that and we did it at the expense of a practice hoist and douse.

We had a good start at the pin, figuring that the left start of the course would be favored because of the favorable rainwater current at the mark. Unfortunately the wind moved from 149 to 166 during the first 30 minutes and then oscillated slightly around 166. So, we were on the wrong side of a 15 degree right-hand shift, but nevertheless turned the mark ahead of a few boats. There the lack of practice showed and we had a badly twisted spinnaker at the hoist. After a big struggle, we doused it to reset it properly below deck and we continued wing-and-wing with the #3 and the main.

We had lost contact with the A1 fleet except Pegasus and Endorphin and MOJO and the faster A2 boats were with us now. A delamination patch appeared and started to grow on the main just above the inside end of the second batten from the bottom. And Tia was obviously not feeling well but stayed on the main. The CB honked at boats with a new windmark direction. We basically stayed with that new group of boats and when they went for the finish line instead of doing an additional turn, we though that we had missed a call to shorten the race. We got our DSQ because the race was shorter for the A2 class but not for us. The two A1 boats behind us followed us to the line and also got DSQed. Then we got a drenching rainstorm on our way to the dock, very dense, very intense but with no wind.

The kevlar main is badly delaminated at one of the fold (it was stored for years with little use). I do not know yet if it worth repairing it.
þ
P
BOR ShortTail Regatta (12-19 nm) - Sunday 6/8 - Result: 3rd of 5
Dock: 0820 - Time limit: 5 h or 1500 - VHF 69

http://www.bermudaoceanrace.com/events.htm

http://www.eastportyc.org/bermuda/default.htm

http://www.eastportyc.org/race/2003/BORShortTailNOR.pdf

2003ShortTailSIs.pdf & chart of race course -

Team: James, Todd, Mike

What a contrast with Saturday's ! It was a beautiful day on the water. We were four onboard and it happened that going light that day was better. We took the gun at the start, did well in 5-6 knots of breeze but could not keep up with Le Cygne and Air Mail in the dying breeze. Also, I messed up during the mandatory MOB drill, too eager to finish in a record time and had to do another turn. We finished third (of only five boats!) after it took us something like 90 minutes to go from just before the spider to the finish line in less than 1 kn of wind and a humongous power boat traffic and its related power boat shop. They were enjoying the sun and making us miserable. We almost grounded the boat just after the spider but fortunately we gibed right away and escaped with only a few bumps on the bulb. Despite that we all enjoyed the promenade, the sun and the dry sky.
6/11. These last few days have been busy and brought important changes. Three races three days in a row and an exchange again with PHRF on our rating. The beginners in the team need to be tutored one on one during each race, otherwise boat handling mistakes snowball. This requires some rearranging the crew schedule. The kevlar main is most likely un-repairable economically. And PHRF, again, wants to change unfavorably the base rating of all J/105s and apply the differential to us. It is only a 3 s/m change but it would make us even less competitive. I have talked to officials and written to my handicapper. Verdict at the Board of Handicappers' meeting on 6/12.
We have raced Saturday despite the rain deluge and the heavy air has shown that we have too much headstay sag again for correct pointing. Keeping the shrouds tight was not enough. We need a much tighter forestay. I have now moved the mast butt two holes forward to correct the problem more radically and to bring the tip of the mast back. I still have one hole left in that direction but we will see first if that move brings any improvement.
I have now updated the web page with results and issues. Unfortunately we have also damaged our kevlar main and it may not be repairable. I am in a dialogue with PHRF as they want to bring our rating down to 81 and I am fighting it . They will reach a decision tomorrow. I am also reviewing the crew schedule for the next couple of months. Now is the time to let me know if anybody has any change.
This weekend we have only the Friday 6/13 beer can race. No other race for PHRF boats. I am ready to schedule a practice session any time Saturday or Sunday if anybody is interested. The forecast is not great with a nearly stationary front moving slowly across the region and bringing showers and thunderstorms again. However the wind forecast is 10-15 kn and this is great for practice. With practices we can be more flexible and pick up a start time to minimize storms, if at all possible. So, let me know.
6/13. Despite my best effort, PHRF has lowered our rating to 81.

þ

Ø

Beer Can race- Friday 6/13 - Result: 1st of 6. june13.html
Team: Allen

Amazing. Allen and I finished first in class (second in real time but corrected over Rebel Yell) despite the fact that it was his first time ever on the boat and wind gusted up to 20 knots during the race and up to 25 kn after we doused both sails after the finish! We used the genoa, the full main but no spinnaker. We had a good start in about 8 kn of S breeze (about 20 degrees to the right of the first mark at 162). We had about three boats on our weather hip and slightly ahead of us and, this is the best part, I started pointing properly with the inside telltales dancing and they could not point as high as us and had to tack away! What a joy to point properly for a change and do onto others what they had been doing to us! My latest mast butt move was the right one and we are now moving in the right direction. Eureka! With almost no backstay and in 8 kn of wind, the headstay sag is still 3-4 inches, which may indicate that moving the mast step to the next and last hole forward may be even better for pointing with the genoa. We will however stay with the current setting for a while. Also, the return to the sharkskin main may have helped a lot as it tolerates much more backstay than the kevlar main (which is officially dead now). We stayed on our tack and the wind lifted but not enough for us to make the mark and the three boats that we send tacking away at the start were now in the inside of the lift, benefited from it, tacked on the header they had and passed the mark before us. We had good mark roundings and when the 20 kn blow came in the second downwind leg we gained back some of what we had lost in the first downwind leg and passed Varmint who had spinnaker troubles.
6/19. Email to Rod Johnstone:
Rod:
You have a nice web page on recommended PHRF ratings. After changing twice the base rating for class J/105s this year, PHRF Chesapeake seems now to be closely following your advice (http://www.phrfchesbay.com/validlist.pdf).
I have a 2001 Deep Draft J-Composite J/105 named Chantecler in Annapolis and I am racing PHRF exclusively because the local J/105 fleet has excluded DD boats from class racing. I am using the 155 % genoa and the 110 m2 spinnaker and I have the feeling I am getting the short end of the stick with my new rating of 81 compared to 96 for class SDs (with class jib and 89 m2 spinnaker). I am getting 6 s/m compared to SD boats because my deep keel is supposed to make me point better and another 6 s/m for the 155% genoa, however when I combine the two the boat does not point well with the genoa and thus I am not racing 12 s/m faster than class SDs. This has been verified in several races this year where the best class J/105s starting 5 and 10 minutes behind, passed me before the finish.
When I discussed the problem with my principal adviser, Will Keyworth of North Sails, he basically told me to learn to point better with the genoa. This season I have hired a coach, Jeff Todd, also from North Sails, who is the best Melges 24 sailor in Annapolis and even when he was racing with me, trimming the main and doing tactics in addition to coaching the team, we finished last in the PHRF A1 class (we are at the bottom end of the class). I have now moved the mast butt further forward in an effort to increase tension on the headstay all the time and to reduce the headstay say for better pointing and seemed to point better in a beer can race in heavy air. I hope this could be confirmed or even improved in the race coming this Saturday with my coach onboard.
In the meantime, I have some questions to you, if I may abuse of your time and attention.
1) Do you agree that the combination from SD with jib to DD with genoa and 110 m2 spinnaker is something less than 15 s/m?
2) What would be your advice to point better with the genoa?
3) Will Keyworth thinks that my boat is heavier than normal. I will have it weighted this Summer but what is the correct weight for a class DD J/105?
The J/Boats US flyer says 3515 kg (7750 lbs) of which 1542 (3400 lbs) in the ballast while the J-Composite flyer says 3600 kg (7938 lbs) of which 1550 (3418 lbs) in the ballast.
4) My keel has been professionally faired to the proper DD templates published on the J/105 web, except the bulb. If there is indeed extra weight, Will Keyworth says that I will have to take it off the bulb to be competitive. I am reluctant to take anything off the bulb because I am doing some offshore races (First to finish in division for the 2002 Annapolis-Bermuda and I plan to do it again in 2004) but Annapolis is light air country. What do you think?
I would greatly appreciate your help.
Jaffar
6/20. Response from Rod Johnstone:
Dear Jaffar: i will first answer your questions, and then comment.
1. No. I think a spread of 15s/m is fair. 2. The best way to point better is to go faster while not letting the boat heel. Most people go slow because they overtrim the sails. Lift on the keel varies according the SQUARE of the boat speed. Perhaps you are trying so hard to point up high that you never get up to speed, particularly in light air when you shpuld have a huge speed advantage over the small jibs. If you go faster forward, you will not go as fast sideways, and will therefore "point" higher by not making as much leeway. 3. The all-up weight of the J/105 when sitting on its Class Rule draft marks is 8,900 lbs. Why not just check the freeboards of your boat against others? The shoal draft boats should be heavier because their keels weigh about 300 lbs more than the deep keels.
Are your lower shrouds tight, and is your mast raked well aft with almost no "prebend" when the backstay is let off. The lowers should be as tight as the uppers. Otherwise the boat will not be easy to sail fast upwind. If the lowers are not tight at the dock, you will never get the sag out of the headstay when you want to.
In general, while sailing upwind --think speed and don't hesitate to ease the genoa sheet and mainsheet to achieve it. Tight leeches on either sail stop the boat.
I hope this helps.
Good luck on the water. Rod
þ

P

SCC Ted Osius Memorial - Saturday 6/21 - Result: 3rd of 4
Dock: 1000. length: 6.25 nm

Ted Osius Memorial Regatta SIs - Ted Osius Memorial Regatta Results

Coach Jeff and team: Catharine, James, Todd, Bill

We have still finished in the second half of the fleet but the feeling was so different. We had a good start, we pointed decently, we were in contact all the time with the top boats and missed second place by less than one minute. Also, none of the class J/105s would have beaten us in either real or corrected time. Furthermore, we did it using the old-beaten-up 2001 Sharkskin main that had also done the BOR and back (10 full days of racing) and clearly shows a fatigued leech. The only shade on this bright picture is that four A2 boats would have beaten us in real time around the course but this could be explained by a different strategy and large gains during the light air phase of the race when they went left in lesser adverse current.

What a feeling! The boat pointing problem has been solved and may only need vigilance and fine tuning from now. The key change was to move the mast step forward. Then last Friday Rod Johnstone (the current J/Boats designer) replied to my email to him on PHRF ratings and gave me the last piece of the puzzle, which is that the lowers need to be as tight as the uppers to let a mast raked well aft with almost no prebend when the backstay is let off. He said that if the lowers are not tight at the dock, I will never get the sag out of the headstay when I want to. He also added that most people go slow because they overtrim the sails and that we should not hesitate to ease the genoa sheet and mainsheet to achieve speed first and then pointing second. Tight leeches on either sail stop the boat.

We started at the CB with speed and to windward of the J/35 Medicine Man in about 8 kn of wind. We had a good start thanks to Jeff because we were so close to the line that my tendency would have make me either luff earlier and thus loose boat speed or go below Medicine Man and thus be gazed by her. We stayed and when Medicine Man pinched and luffed to try to send us tacking, we were able to point without losing too much speed and inched forward. Medicine Man had no choice then but to tack away to avoid our bad air and she did it too close and I had to foot a lot to avoid her bow. We stayed ahead of her during almost the full race but she passed us at the finish line coming from the Starboard layline. I tried a lee bow but possibly too late, she crossed the line ahead of us and our two tacks made us lose 32 seconds to her but we compensated over her.

We also used for the first time the blue 2001 North 110 m2 runner I have recently bought used. The sail is light (1/2 oz), big, has a beautiful shape and two small repair patches. The sail worked quite well even when we had to sail quite high in the light air we got in the middle of the race. We tried to seek better air on the right outside corner near the Eastern shore but unfortunately we most likely also got more adverse current there and lost some ground at the last leeward mark.

For the last leg, upwind, the wind came back and peaked around 14 kn. The weather was dry for the full race and the air was colder than the water, which made for lots of instability and short period oscillations.
6/23. 2003 mission accomplished. Well almost. I did not plan to do any ocean race this year, preferring to focus the season on getting the boat going well in the Bay first. Mostly using the elimination process (it is not the crew, not the helmsman, not the genoa, not the main, etc.), I had identified three potential boat speed problems: pointing, the boat total weight and the propeller. Today, the pointing problem has been solved by raking the mast aft and reducing headstay sag to the minimum in all conditions by keeping the same high tension on both the uppers and the lowers. The boat is now much faster upwind, and this is also showing that the other two potential problems, the weight and the propeller are at least one order of magnitude below.
I am currently reviewing and streamlining the crew schedule and refocusing on distance racing, including the preparation of the 2004 Annapolis-Bermuda race.

þ

Ø

Beer Can race- Friday 6/27 - Result: 3rd of 5. june27.html
Team: Larry, Ellen, Todd, Lisa

That was a tough but good race. Larry agreed once more to do foredeck and did well at the hoists but had some difficulties at the douses in the building breeze (up to 18 kn). We lost some grounds there each time but no major problem. We did not have a good start due to some indecision and staying too far away from the line and as usual, the ground lost there cannot be recovered. Good fun nevertheless for everybody.
þ

P

AYC Annual Regatta - Saturday 6/28 - Result: race abandoned
Dock: 0900

Coach Jeff and team: Mike, Todd, Bill C, Tony, Bill L, Sable and Nicole

We were ready and we got one of the best recent practice before the start with a good wind that permitted us to do several cycles with two different spinnakers. At the start the current against us was already quite strong and we decided to start at the pin to go left to the shallows of the Western shore with a NNE wind. We did a Port approach but messed up the tack on the line ahead of the Starboard approaching fleet and ended up in their bad air in adverse current, dying breeze and the power boat chop did not arrange the situation by stopping the boat with each strong wave and preventing the slow built up of speed that we needed. We tacked twice for clear air and then stabilized the situation but way behind the leaders. At times we lost some height and some ground to the boats nearby but we then we regained it slowly.

We did a couple more tacks to avoid another race of smaller boats (Stars) when the wind became much weaker and our SOG slowly reached zero. We then readied the anchor and anchor the boat in 20+ feet of water to avoid going backward. Boats around us started to give up but we decide to go for a swim instead and wait. The water temperature may not be the highest at this time of the year but there are no jelly fishes yet and many of us had a great day on the water, swimming, cleaning the hull or taking pictures. Then the RC officially called the race, except for A0 where 2 boats finished a shortened race, as they arrived at the windward mark before the wind died and then they were in favorable current in the deep channel.
[Sail/photogallery/photo17832/real.htm]
7/15. Back from Nice. Preparing the logistics for the Solomons and Screwpile races.

þ

è

EYC Solomons Island Regatta - Friday 7/18 - Result: 15th of 22
Dock: 1715 - VHF 68 - Length: 55 nm

Solomons Island Invitational - Results Solomons Island Invitational

Coach Jeff and team: Bill C, Todd, Mike, Catharine, James, Alexander

We had high expectations for the race but got an honest result only, 15th of 22 boats and only 8 minutes 27 s (compensated time) behind the 12th place boat but 48 minutes behind the first, an Henderson 30.

We had a good start at the pin but soon the larger boats were giving us lots of bad air and there was little we could do until we tacked past the Tolly Point dolphin. The current was against us so we decided to follow our plan to stay in the shallows of the Western shore as the current was against us, even after we noticed that the big boats were instead going to the Eastern shore. Then, between Thomas Pt and Bloody Pt the wind died and we slowly tried to get more to the East for slightly better pressure, but it was too late and we had to make the new mark West of Poplar Island. We continued to tack upwind in or near the deep channel as the current was now favorable. Later, we hoisted the spinnaker as the wind had turned and pulled ahead of the boats around us, but the damage had been done earlier, as we were now with the leading pack of J/105s that had started behind us.
þ

è

SMSA Screwpile Series - Sunday 7/20, Monday 7/21 and Tuesday 7/22 - Result: 10th of 11 boats
Screwpile Lighthouse Challenge - http://www.screwpile.net/results03/class4.htm

Team: Bill C, Catharine, James, Bill L, Larry

The series of six races in three days of medium to heavy air has been a relative disappointment as we did many things that were unusual for us. First we had many great starts but we could not hold on to the initial lead. We had trouble trimming the sails and steering the boat in the waves, both upwind an downwind. We often had trouble tacking and gybing. And we also had trouble hoisting and dousing the spinnaker at the marks. Small mistakes seem nothing at the time but they add up quickly and any lost seconds are never recovered. We certainly have to go back to basics on boat handling as working together as a team requires only practice to be decent.

7/25. A quick update to signal that we will be doing our only Friday Night Beer can race of the month tonight and I have lost track of who is coming beside Jon who has confirmed and Allen, Ellen and Larry who are not coming. Anybody else?
We have been disappointed by the recent races. Finishing 15th of 22 boats for the Solomons race and thereafter barely avoiding DFL for the Screwpile series.
I was disappointed because boat handling mistakes did us when two years ago at the same series it was our forte. Thinking about it, this is normal because in the last weeks, we have not practiced much, we have moved crew from position to position and we paid less attention to boat handling. There is no easy way and hard work and practice is the only way in our game. I nevertheless enjoyed the series and we nailed some great starts at the CB end.
We had a great ride delivering the boat back under main alone most of the time and with steady wind gusting to 20-30 knots. However the J/105 fleet left earlier and got knocked down near Poplar Island by a severe thunderstorm. Several boats reported spending about one minute on their side and then coming back OK but Java lost her mast, boom and rigging in the blow. Her crew is fine.
Discussion on the J105Flt3 distribution list

Sent July 23, 2003
From Chuck

A friend of mine on a J-30 says he saw Java get dismasted when that squall hit around 5:30pm yesterday. Anybody hear anything? Are they all right?

From Denis

Chuck:

Thanks for taking our crew back to Solomons. Saved us 1 1/2 hours, and from possible catastrophe. My daughter and I were flying the small spinnaker back surfing at 10+ ahead of a the nasty storm that must have hit Java. Thanks to her good instincts we took the chute down seconds before the winds suddenly increased from 20 to 35. Without crew, could not even think about taking a reef, so rode the storm with full main up in 45 knots gusts, Surfing at 12+. Not sure the rig would have endured much more.

I sure hope everything is OK on Java, and everyone sailing back came home safely.

Cheers,

Denis

Mopelia

From Jaffar

FYI, Denis, leaving later was OK.

I left the Solomon's dock the first time around 4:15 pm to hear on channel WX 2 the sharp sound of a new

severe

thunderstorm alert for the area and returned to the dock. The alert was due to expire at 5:15 pm but was downgraded early at 5:00 pm and we left again as the threatening skies had cleared. We had a pleasant ride back, most of it done under main alone at 8-13 kn of boat speed on the Western side of the deep navigation channel with 20-30 kn of TWS. I rigged a boom preventer to surf the waves. I am glad I selected a VHF with remote cockpit mike and we kept monitoring alternatively the NOOA weather and channel 16. This was boring but a NOOA alert would give us a 10 minute advance

warning

on any stuff they had identified (of course they also miss some of this bad stuff). We heard several calls of tugboats asking sailing boats to clear the navigation channel. It was most likely for the larger boat that had passed us earlier with her stereo blasting from her cockpit speakers.

Also, I remember reading somewhere that J/Boats had issued a

warning

that many sailmaker's tuning guides had shroud tensions too loose to be safe in the nasty stuff.

Jaffar

From Walt

I was hoping everyone got through that OK. Tom and I were near Poplar Island with the chute up when that hit. We could see several of our boats headed home. We ended up on our side and had a wild couple of minutes until we got everything blown off. Luckily nothing broke. We took on a lot of water through the starboard port that was wide open. If there is bad weather around make sure you close those because they are under water when the boat goes flat on its side.

That "micro-burst" came very quickly with virtually no

warning

other than a black cloud in the distant south.

Walt.

Sent July 29, 2003
From Robert

The squall that nailed many of us last Tuesday should serve as awake-up call for all, and a good lesson in safety (or lack there-of). How many checked the weather before departing Solomons? Were wearing life jackets? Saw that black cloud and did something about it (getting sails down)? Speaking for A Train we didn't check the weather, were not wearing life jackets and saw the black cloud but did nothing about it. Shame on me. There are other things we could add to the list. Walt mentioned the side ports being opened - really scary. The same for hatches. How long would it take the boat to fill up with water and sink? And with no life jackets on survival would be difficult. It's one thing to push the boat in a race with a full crew aboard; quite another when on a short-handed delivery. Enough said. Sail fast and safely.

Bob

From Jaffar

I will also add that the NOOA weather forecast should be checked regularly after departing in periods of unstable weather and threatening clouds. Forecasters are wrong occasionally but this time they got it right and a

severe

thunderstorm alert (loud screaming sound) was issued with a complete SW-NE path over the Solomons area at least 15 minutes before the squall hit the area and then the alert was canceled and downgraded about 30 minutes thereafter. This is a wonderful tool that we are lucky to have in the Bay as we only have to turn the VHF/WX on to use it.

Jaffar
7/30. Added Screwpile picture.
è

SMCSA Governor's Cup - Friday 8/1 - Results: 18th of 21.
Dock: 1630 - Length 70 nm -

Governors Cup - http://www.smcm.edu/govcup03/GC03sailing_instructions.htm

Team: Bill C, Todd, James, Mike, Catharine

Playing the Western shore and the tide did not pay off last time as there was better pressure on the Eastern shore. So this time, we decided to pay less attention to the tide and as the rhumb line was taking us to the Eastern shore from Poplar Island to James Island, we were partial to the Eastern shore. Bad choice. We are definitely out of phase with nature. We tacked 14 times between the start and James Is to stay close to the rhumb line and the Eastern shore and then 7 more times between Cedar Pt and Pt Lookout to return to Western shore. Obviously it does not pay to tack to go one way at the beginning of the race and then the other way to finish the race. We sailed extra distance. Le Cygne, the Beneteau 40.7 rated 51 that got line honors (almost 2 hours before us) and finished second did only ONE tack for that part of the race by hugging the Western shore and benefiting from the better pressure there. I am sure that the winner, Chardonnay, rated 84, followed the same path to finish 1 h 30 mn ahead of us.

I am in the process of analyzing the race track on the navigation software and it seems at first glance that we also got a pointing problem as we tacked through 97 to 99 degrees several times. Matching the track to the wind is not easy with my current software so I am not sure yet how much off the VPP prediction we are. Also, tacking against the current widens the angle, one more reason why the no-tack path along the Western shore paid off so much. More later on the subject.

Crew work was good to outstanding this time. Thanks to everybody for making the necessary adjustments. We had the right spirit and again did a great start together.

On the fast return delivery trip we got a nasty thunderstorm but we were prepared. We monitored the NOOA weather forecast and when the clouds were telling us that the time was now, we had the spinnaker doused and a reef in the main. Soon, thereafter, we could see patches of sea become a bright silver from the combined action of heavy rain and winds. The patches soon became a narrow band that moved fast from our left and passed us before widening and drenching us with lots of water.
P

WRSC Twilight Race (Govt. marks) - Saturday 8/16 - Dock: 1300
Team: Ben, James, Jon, Alexander,

Available: Bill C?,

The race starts at 4 pm but I plan to make some comparative measurements of boat speed and tacking angle with the navigation computer, comparing our performance with the #1 and the two #3 headsails. We will also adjust some trim parameters by trial and error until the boat speed is optimized for the conditions. The data will help us decide if we should downgrade our PHRF rating to the #3 and drop back into PHRF A2.
8/25. This morning I found on the EYC's web site the posting of the results of all Friday Night Beer can races and we have won three of the six races of the first series. This should give us FIRST place for the Series 1 although we are listed in second place only in the posted Series 1 standings due to an error listing us with the J/105s in a couple of races. I have emailed the RC chair and expect a correction soon. Please join me (particularly those who have been BC's regulars) for the race awards party this Friday at 6 pm at EYC. Here is the email I have received this morning from the RC. For Series 2, we have missed too many races to be in contention for any silver.
**Quote. That's right, it's party time!
The Annual Beer Can Friday Night Race awards party is this coming Friday evening, that's August 29th. The festivities start at 6pm and will go till the beer runs out.
Eastport Yacht Club Race Committee **Unquote.
Another good news is that the new kevlar main will be delivered to us on Friday, thanks to a big effort by our friend Will Keyworth.
I would love to try the sail prior to the important ARW this Labor Day weekend (we have to refit the pre-feeder). If a few of you are available, I would like to get on the water Friday around 5 - 5:30 pm for a pre-race tune-up with the new main prior to the EYC's BC award party. Please let me know if any of you are available / interested.
For the first two days of the ARW this weekend we have one of our best crew of the season with Todd, James, Mike, Laura and Jana, but unfortunately Laura and Jana are not available on Monday. Although Pat, a newcomer with good experience, may join us. So, if anybody else has had a recent change of schedule and is available on Labor Day, please let me know urgently. There are already 25 boats registered in PHRF A1 and the series could be lots of fun with a good team and a new main. Our fleet is starting South of Thomas Pt so please be at the dock well before the 9:00 am dock time as we have about one hour of motoring to reach the starting line.
þ

è

Annapolis Race Week - Saturday 8/30, Sunday 8/31 and Monday 9/1 of the Labor Day Weekend - Result: 28th of 32: Annapolis Race Week-Monday
Dock: 0900. SIs: Annapolis Race Week

Team: Todd, James, Mike, Laura (Sat & Sun), Jana (Sat & Sun), Pat (Sun & Mon)
9/2. What an emotional roller coaster. The new kevlar main was originally due for early August but I had to pull some strings on Monday last week to ensure that it would be ready by ARW. I got it as promised on Friday and planned to have a short commissioning test late that afternoon before the Beer Can award ceremony, but unfortunately nobody showed up at the boat to help me and the sail stayed in its bag that day.
Thereafter, at the Beer Can award ceremony, I was expecting first place for Series 1, but we got only second place with no clearer explanation than 'the person who did the ranking did it correctly and the web site is wrong'. I was not convinced but decided to avoid a fuss and accept the second place award for Series 1 and third place for the overall BC season.
On Saturday, big disappointment in the morning as the new main boltrope will not fit our mast track. We have to race with the old main. Our starts are good but we cannot keep up upwind with the rest of the fleet and finish 27th and 26th for the two races of the day. After the race, I talk to Will Keyworth after Jeff Todd had looked at the sail and he tells me that a minor adjustment made in the headboard will permit us to use the sail the following day.
On Sunday, new disappointment, as the naked boltrope is still to big to fit our mast slot. We race again with the old main and again have a good start but we opt for the wrong side of the dying breeze and soon we are stuck with the bottom half of the fleet at the last windward mark in adverse current when the time limit expires. We lose one rank in the process because First Look, which was behind us before, got a finish with about 18 other class boats and thus moves ahead of us for the regatta. We have a good discussion onboard and decide to sacrifice the races the following day to try racing with the #3 jib instead of the #1 genoa, with which we cannot point.
On Monday, we loosen the rig and go with the kevlar #3 after trying the class #3 and judging the kevlar sail was a little bit better. The CB posts a B course (4 legs) in huge letters with a mysterious prefix 'O' and a mysterious suffix 'X', both in tiny letters. Somebody asks the CB over the VHF what they meant by that but the CB does not answer. We have a top class start at the CB and go for the right side of the course (Western shore) expecting to find there both a better current in shallower waters and a right hand wind shift. We get both and stay with the top pack this time as our pointing problem had disappeared, as expected. We do a good downwind leg on the Eastern side of the course and then have a close to perfect leeward mark rounding with a Mexican douse inside of the rest of the fleet. On the next windward leg, we keep favoring the right side, but this time, lose to the majority of the other boats, as the wind shifted back to the left. Nevertheless, we turn the mark in still good position, hoist the chute and then keep it flying upwind as the wind continues to shift left. At one time, we were the only boat flying the chute as even the top J/105s already around us doused their chute for the leg. We kept it because we were not losing any ground with it most of the time and at other times, we were gaining.
Then, we were surprised to see the top class boats coming back still racing while we were expecting to finish. When we turned the leeward mark, about half the fleet was doing a fifth leg while the J/105s and A2 boats were finishing. I was quite confused because I paid particular attention to CB signals and could not understand this fifth leg. I got a flash back of a race last year when the situation was also confusing and I decided to simply follow the fleet boat ahead of me only to discover later that I was DSQed and the winner of the race was a boat that was behind me at the time and did not follow the pack. So, I decided to make a U-turn and to cross this finish line a couple of hundred yards away instead of following the other boats without understanding why. The CB there told us that the finish for our class was upwind because of that suffix 'X', which did not exist in the race's SIs but meant two additional legs in the CBYRA Green book, We should have missed the shortening of our course at a preceding mark. We thus resumed racing under spinnaker and crossed the finish line last but close enough to a couple of Beneteau 36.7s to compensate over them.
I did not want to protest the RC, but several other A0 and A1 boats who had a bigger stake in this than us did and the race was annulled.
9/3. Since we are going to use one of the 100% jibs for the rest of the season, instead of our #1 genoa, we will have to make drastic changes to rig tuning and sail trimming. We will have to reset our references. We will use the North guides as new starting points and I will require all team members to study them and apply them carefully. Here are the guides:

þ

GIYS Cedar point Race - Saturday 9/6 - Results: DNF: Results Cedar Point Race
Dock: 0830. This 35 nm distance race starts and ends near Annapolis. Starts Saturday morning and the return to the dock may be quite late at night. Cedar Point Race

Team: Ben, Alexander
9/10. The Cedar Pt race was a delightful day on the water until about 6:30 pm when the wind died completely and we started to go backward in the deep channel near Bloody Pt Light. After the nearest A1 boat, the J/120 Hot Pepper, on which we were slowly gaining, gave up, we waited for about half an hour and then motored to the finish. For our patience, we were then treated to a gorgeous sunset in the Bay.
We were shorthanded for the race but it was OK for a distance race in light air. We had a spinnaker start and I managed to try to hoist on Port tack with the spinnaker on the Port side of the boat. Fortunately, we did not lose much and basically did a good downwind leg along the Eastern shore first and then along the rhumb line in the middle of the Bay after Poplar Island. This second part was most likely a strategic mistake as boats on both shores gained a bit on us but the fleet was still quite grouped at the mark.
After a good douse, the upwind return leg was a bit less good for us, again because we stayed in the middle of the Bay with a favorable current but with less pressure than along the shores. We nevertheless were quite pleased by by our pointing and overall boat speed with the kevlar #3 as we slowly gained on Hot Pepper. When the wind died, we were so close to reaching the shallows on the East of Bloody Pt Light, where we would have done better with less adverse current and more pressure.
All in all, a good day in the water for the three of us.
9/11. Applied for a change of PHRF rating for downgrading our largest headsail to the 100% jib.
þ

SSC Hospice Cup (Govt. Marks) Saturday 9/13 - Dock: 0900
Team: Tony, James, Ben, Mike, Bill
x è

NASS Race to Oxford (Saturday 9/20 - Dock: 0815) and TAYC Hammond Race Back Sunday 9/21. Race canceled due to Hurricane Isabelle
§

2-day event: Saturday and Sunday

NASS Race To Oxford and Hammond Memorial Race

Team: Todd & daughter, Mark, Bill, Mike and daughters

Reserve: Alexander
9/22. Hurricane Isabelle was over the area Thursday 9/18 night. I got power back only yesterday early evening. That was the most difficult part of the storm, as Chantecler is fine, with only a scratch on her Starboard side. I made the scratch when ,on Wednesday, I moved her by myself to a wider, larger slip that had become available because the larger boat moved away. I then doubled or tripled the number of dock lines, using long lines to take into account the incoming storm surge. Adjusting all these lines so that they pull together was quite a job. On Friday when I checked the boat the water was still quite high but I was able to reach the boat by walking on the dock deck with water at waist level and then climbing up to get on the boat!
Damage in our dock area is limited. One piling on the T-dock got pulled out by the big power boat that stayed there (the boat is OK) and the McNasby deck and façade have been destroyed.
Today, I moved Chantecler back to her usual slip.
9/26. Bad news from PHRF. They have rejected my application to change Chantecler's handicap by limiting our headsail to the 100% jib. Contrarily to what he had told me over the phone two weeks ago, my handicapper now says that I have only two choices, either following all class rules (with no kevlar sails) or continuing with my current handicap which permits the big genoa, the larger spinnaker and has no limitation on sail material. They do not want to modulate the handicap on the basis of a jib smaller than maximum permitted size.
So, we are stuck with continuing to compete in A1. Two factors may still make a difference: the new kevlar main and the fact that I have now moved the mast step to its last hole forward. With no backstay tension, we will have more mast rake and less headstay sag, which should help our pointing. We will have nevertheless to go through several trials and errors sessions before finding a rig tuning we like.
x

Ø

Rig testing and p

ractice - Sunday 9/28 - Dock: 1030 . Canceled.

10/1. The PHRF position was a downer and caught me completely off guard last Friday because we were all quite excited by the idea of moving down to A2 with a more competitive set of sails. After the shock period passed, I seriously reviewed all my options. The conclusion is that our current situation is not as hopeless as it seemed at first glance because there are many new elements that may make us more competitive in A1 with the genoa and it is worth trying again for the three remaining races before drawing more definitive conclusions. First the combination of the new kevlar genoa and the new kevlar main has not been tried. Last Spring, we had only tried shortly the genoa with the used 3DL kevlar main and that gave us our very first victory in a decent race but no good pointing. Since then, our rig tuning philosophy has changed drastically. Our biggest pointing problems were when we had the combination of the genoa with the old class sharkskin (Dacron) main, which is now rather baggy and quite full, an attribute that is not that bad for class racing with a 100% jib but much worse when combined with a 155% genoa. The new kevlar main is amazingly flat, and may even be too flat for light air racing with a 100% jib, but is a perfect fit for the genoa and the straight mast that we use now instead of the pre-bend mast that we had at the beginning of the season. So a new try is warranted and will not be hopeless. Furthermore, the Fall season is supposed to be windy and J/105s love heavy air.

When I got my mental energy back, I started to read again with renewed attention all the literature I had on rig tuning and focused particularly on 'A manual of sail trim' by Stuart Walker. This book is extremely dense and difficult to read and understand because it is in outline form. Some of the links he makes between elements at various outline levels were not obvious at first reading. I was however surprised to find there, in my second reading, several elements that were answers to several of our boat speed issues. I made an analysis (in outline form, of course!) which is at: Boat Speed Issues. From that analysis, I have now a clearer idea of what I want to achieve with the rig setting. I want a straight mast (to complement the flat main) with almost negative pre-bend (to work better in dirty air and waves). I want high tension on the uppers to avoid the leeward shroud going slack (to keep maximum tension on the jibstay). Then I want much lower tension on the lowers and the intermediates in light to medium air to induce the lateral mid-mast slack (to provide flexibility and a rig that will self adapt to these conditions). Here, we will most certainly have to do several iterations because a lower tension in the lowers will also induce more jibstay sag, which we want to avoid to point better. In these conditions, I also want to use the vang sheeting technique as opposed to the traveler for positioning the boom vertically and thus taking advantage of the boom flexibility.

With that in mind, I went to the boat this afternoon. I had already moved the mast step to its last hole forward last week. I adjusted the rig to my new plan and then went sail testing with a fellow boat owner that was available by chance. Wind was 2-5 kn most of the time, but we were fortunate to get a short period of up to 11-12 kn. I further adjusted the rig to get the lateral mast bend sought and checked the effect the vang had on the boom and on the rig. Everything went according to plan. However, I also got a pleasant surprise. Because of the change in mast rake due to the mast step moved forward, the genoa now crosses the shrouds below the upper spreaders and, as a result, we can now sheet the genoa a little harder, having gained at least a couple of lateral inches there and possibly more. So, here I am again, all excited to go to the next race with new tricks in our bag.
è

AYC Fall Series Saturday 10/4, 10/11 and 10/18 - Dock: 0900
Results: 19th of 23 (12.9 nm)- 19th of 21 (12.7 nm) & 11th of 20 boats (11.7 nm).
16th of 24 boats for the series. For the full PHRF fleet we are 40th of 48 boats.
§

! Three Saturdays in a row - Results

Team:

| | | | |
| --- | --- | --- | --- |
| | 4 | 11 | 18 |
| Todd | x | x | x |
| James | x | | x |
| Mike | x | | x |
| Mark | | x | |
| Tony | | x | |
| Bill | x | | |
| Pat | | x | x |
| Alexander | | x | |
| Ben | | | x |
| Will K. | | | x |
10/9. Another disappointing outing. The wind was good for us (around 20 kn) but we nevertheless beat only four boats in our class. The winner of A1 was 20 minutes ahead and three A2 boats and Mirage the best J/105 that day (Mirage passed us at the last leeward mark with a perfect mark rounding, wide at the beginning of the turn then tight and close to mark at the end - We did a well-executed Mexican douse at that mark, but were too close to the mark at the beginning of the jibe and I did not properly plan for the Navy 44 that was 1/2 boat length ahead of us on Port jibe), also finished ahead of us in real time, meaning that they were 5 and 10 minutes respectively faster than us. We had obviously a few mistakes but there is no new feeling of better boat speed. We have used the kevlar 100% jib and the new kevlar main without reef.
First, I tightened the rig the morning of the race to 63-45-50 for heavy air. It was guesswork based on the principles I had been following, however, when I went back to the boat yesterday, I found that the mast with that tension had too much negative mast pre-bend. I spend lots of time playing with various relative tensions between uppers, intermediates and lowers to discover that in order to keep a straight mast with no backstay, we need to have higher tension in the intermediates and less tension in the lowers. So, to begin with, we did not have a proper rig set up. I do not know how big this factor is.
Second, I have committed our first bad start of recent months. It was my now usual approach but the crowd at the committee boat made me jibe a bit late and above the layline for the CB. Kiva was behind us and to our left but on the layline and with more speed than us forced us to the wrong side of the CB. We had to tack then jibe there and start at least 30 s late.
Third, the heavy air made us do a couple of boat handling mistakes, the worst of which was when we went shrimping with the spinnaker at the first windward mark. A wave had caught the tack just before the hoist and it took us some time to get rid of all that water and complete the hoist. We were dead in the water for a while and restarted the race then in last position after about 10 boats passed us.
Fourth, we definitely have a lot to learn before using our new main effectively.
Yesterday, I talked to Jeff and he came to see our new rig setup. Following his advice, I am having the #1 (155%) recut higher at the clew to be able to tack it to the deck and move the genoa car forward in light air. The sail will be ready for the race this week. Also, the result of the new rig setup (after a tune-up in the water in light air) is 55-44-0 with no backstay and 40-42-13 with the backstay at 1 kpsi (blue mark). Finally, Jeff may do our final AYC race with us.
10/15. Our last race of the season is in a couple of days. Will Keyworth, our sailmaker and adviser will be racing with us and helping us set up the rig properly before the race. Heavy air is in the forecast again but this time we should be eight people and it should help tremendously.
10/17. At Will's request, mast step moved one hole (2 cm) back, and rig tension reset to 45/15/0. Final adjustments will be made just before the race.
10/19. With Will Keyworth, we did obviously better, but still have been unable to break into the top half of the fleet. This sort of give us an asymptote of what we can aspire to do by ourselves in these tough conditions. A cold 7-12 kn wind was blowing from 0 to 030 and generating short waves and fast changing gusts and lulls at the interface with warmer water.
We did not change the rig set up from what I had done the day before. We left the dock quite late, due to the late arrival of the diver who had not cleaned the hull the day before as scheduled. I am glad nevertheless we had not left when he arrived as growth is maximum at this time of the year and a week of growth would have slowed us markedly. The start area was South-East of Thomas Pt and thus we had barely the time to look at proper upwind trim before the race without doing any practice hoist and douse. Sailboat handling went nevertheless fine during the race despite some new assignments for Pat and Ben at the pit and Mike at the main. We had a blaring miscommunication between Will and I at the first douse but our messed up leeward douse turned up into a good Mexican douse and we did not lose too much time there. Will made us change the way we tacked by using the main trimmer to release the working genoa sheet and thus keeping more people on the rail longer during a tack. The re-cut #1genoa is working fine tacked at deck-level and we are able to trim it quite tight on the shrouds both at the foot and just below the top spreader. In fact we are now able to trim the genoa about four inches closer to center line at the top. Will made us keep the foot and the leech of the genoa much tighter than we used to and pointing better than it had ever been with the sail, even when we had a much tighter jibstay. Also, he used a much tighter genoa halyard tension to keep a rounder entry than we used to and this did help keeping a wider steering groove without taking too big a toll on pointing. Choosing the right compromise is obviously a mark of higher sailing talent.
We had a Port-tack start at the pin and stayed with the boats around us for longer than usual. Steering was difficult that day and it took me a while to find the right of balance in the amplitude, speed and response time of the wheel corrections. I did not do it well in the first few minutes and thus lost some height to a boat on our windward hip and got bad air from this boat and another to our leeward and ahead. Will said that I did a better job in the later windward legs when I concentrated better on the boat feel and the telltales.
10/28. The boat will be moved to the White Rocks Marina with Todd and Mike on Saturday 11/1, will dock there and then it will be hauled out on Monday 11/3.
2/12/2004. Below is the final 2003 CBYRA High Point scores of our class A1 for region 3AW.
| | | | | | | | | | | | | | | |
| --- | --- | --- | --- | --- | --- | --- | --- | --- | --- | --- | --- | --- | --- | --- |
| HP Place | Sail | | Boat Name | | Owner | | Club | Number of Events | Bonus | Total Points | Best Points | High Point | | Highest Score drops |
| 1 | 51518 | | Le Cygne | | Don Chapman | | EYC | 13 | 25 | 212 | 231 | 0.8287 | | two events: 303 352 |
| 2 | 93004 | | Dame Blanche | | Othmar von Blumencron | | SSA | 10 | 5 | 162 | 187 | 0.7523 | | event 208 |
| 3 | 51120 | | Windborn | | Rick Born | | SCC | 11 | 30 | 152 | 184 | 0.7459 | | event 336 |
| 4 | 128 | | Thunder Struck | | John White / Tom Ballard | | AYC | 10 | 15 | 104 | 125 | 0.7000 | | event 337 |
| 5 | 42449 | | Promises | | L & A Kumins | | AYC | 10 | 0 | 142 | 173 | 0.6995 | | event 319 |
| 6 | 93081 | | Euro Trash Girl | | Nicole Weaver | | MRYC | 11 | 15 | 156 | 200 | 0.6980 | | event 335 |
| 7 | 53352 | | Air Mail | | Tom Carrico | | SSA | 20 | 30 | 197 | 274 | 0.6796 | | three events: 211 321 502 |
| 8 | 41841 | | Apparition | | Stephen Bowes | | RRBC | 11 | 15 | 127 | 196 | 0.5892 | | event 359 |
| 9 | 83299 | | The Fish | | Bill Shinn | | BCYA | 13 | 5 | 111 | 166 | 0.5771 | | two events: 361 502 |
| 10 | 23244 | | Bad Medicine | | Narin Beaty | | GSA | 6 | 15 | 50 | 69 | 0.5702 | | event 208 |
| 11 | 2036 | | Endorphin | | Erik Wulff | | HHSA | 10 | 25 | 96 | 167 | 0.5451 | | event 502 |
| 12 | 93165 | | Gijima Kakhulu | | Jack Guido & Garth Hichen | | AYC | 6 | 0 | 69 | 100 | 0.5308 | | event 335 |
| NQ | 31167 | | Kiva | | Bob Turner | | - | 8 | 25 | 87 | 161 | 0.5185 | | event 501 |
| 13 | 93063 | | Downtime | | Ed & Molly Freitag | | AYC | 11 | 5 | 97 | 175 | 0.4857 | | event 502 |
| 14 | 73000 | | Medicine Man | | Charles Kohlerman | | HdGYC | 6 | 10 | 44 | 77 | 0.4615 | | event 502 |
| 15 | 93186 | | First Look | | Arthur Crowley | | SRSA | 9 | 15 | 78 | 160 | 0.4537 | | event 501 |
| 16 | 53408 | | Aunt Jean | | Sagerholm / Christofel | | NASS | 5 | 0 | 52 | 98 | 0.4063 | | |
| 17 | 83471 | | Stitch-N-Glue | | Daniel Rossi | | AYC | 5 | 20 | 39 | 96 | 0.4041 | | |
| 18 | 93096 | | Georges II | | Sylvan Chaix | | AYC | 5 | 20 | 31 | 81 | 0.3893 | | |
| 19 | 536 | | Chantecler | | Jaffar Bentchikou | | RRBC | 20 | 25 | 81 | 235 | 0.3655 | | three events: 359 501 502 |
| 20 | 50434 | | Equilibrium | | Robert Dunsky | | AYC | 12 | 10 | 63 | 174 | 0.3411 | | two events: 359 502 |
| NQ | 51710 | | Vitesse | | Harold Denton | | - | 10 | 10 | 59 | 167 | 0.3333 | | event 502 |
| 21 | 93206 | | Wild Onion | | Jim Carkhuff | | AYC | 6 | 0 | 46 | 110 | 0.3286 | | event 502 |
| 22 | 93367 | | Pegasus | | Peter Firey | | WRSC | 12 | 25 | 52 | 188 | 0.3169 | | two events: 359 502 |
| 23 | 83321 | | Spice | | Brad Parker | | AYC | 5 | 0 | 33 | 78 | 0.3056 | | |
25 Boats, 23 Qualifiers, 2 NQ (Not Qualified)
5 Trophies for Region 3 AW, PHRF A1
Date: Revision 5.0 - 14 January 2004